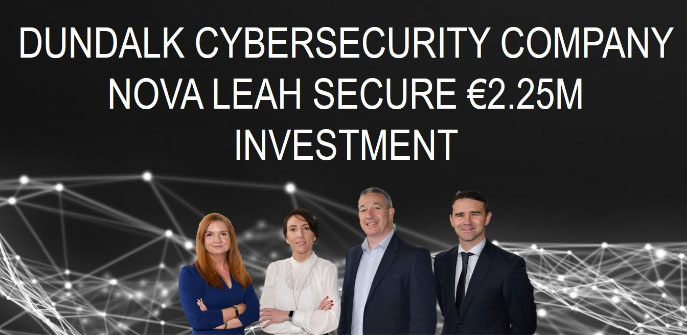 8th November 2018:
Kernel Capital and Suir Valley Ventures have invested €2.25M in Dundalk based Nova Leah Ltd. The round was led by the Bank of Ireland Kernel Capital Growth Fund (RoI), with a €1.5M investment. 
Nova Leah has developed a pioneering cybersecurity compliance solution for medical device manufacturers and healthcare providers. It has been designed to improve the security of connected medical devices, improve patient safety and reduce associated regulatory costs. The platform has global deployments with a blue chip customer base.
Connected medical devices represent a rapidly growing sector in healthcare. There are currently 10 – 15 million connected devices in use globally; cybersecurity spend in the healthcare sector is valued at $5.5Bn annually and is expected to reach $11Bn by 2020.
"We are very excited to be working with Kernel Capital and Suir Valley Ventures. This investment milestone will see Nova Leah further expand on its existing success as we strive to become the number one provider of cybersecurity compliance solutions for the connected medical device industry. The proceeds of this investment will allow us to expand our team, further develop our product roadmap and build our presence in the marketplace."
Anita Finnegan, CEO, Nova Leah
"In a world where connected IoT is increasingly the norm, the risks associated with security vulnerabilities are of enormous significance for patients and device manufacturers alike. Nova Leah has developed an impressive solution to improve security for device manufacturers while simultaneously improving patient safety. The company is delivering leading edge cybersecurity technology in one of the fastest growing sectors worldwide and Enterprise Ireland looks forward to continuing to support the company in achieving its global ambition."
Niall McEvoy, Manager, High Potential Start-Ups ICT Accelerate, Enterprise Ireland
"We are pleased to support Nova Leah with their exciting and ambitious plans. This is another example of the world-leading innovation that's emerging from DKIT and in Dundalk more widely."
David McGeough, Head of Business Banking Louth, Bank of Ireland
"Cybersecurity within healthcare is under intense scrutiny, driven by incidents such as the WannaCry attack of 2017 which infected over 300,000 computers worldwide, and regulators, such as the FDA, seeking to resolve cybersecurity challenges through greater oversight within this sector. Nova Leah have brought to market the world's first expert cybersecurity system for medical devices."
Jayne Brady, Partner, Kernel Capital
---
For further information please contact:
Helen Norris, Kernel Capital.
+442890428367
Notes to Editors
About Nova Leahwww.novaleah.com
Nova Leah is a spin out company from Dundalk Institute of Technology (DkIT). SelectEvidence® is a user-friendly system that provides a repeatable, traceable and auditable way to manage cybersecurity throughout the lifetime of a device. The system accurately tracks risks for each device, highlights known vulnerabilities, recommends solutions, provides a feedback mechanism between manufacturers and hospitals and does so within a fully traceable framework. As Anita Finnegan (CEO) is an internationally recognised expert in the field of medical device cybersecurity, Nova Leah are uniquely positioned to provide manufacturers with a cybersecurity solution guide them through the required cybersecurity processes during design, development and maintenance. Connected/IoT medical devices include insulin pumps, pacemakers, infusion devices, syringe pumps, nurses' workstations, imaging devices and many more. While it is daunting for us to even contemplate that such devices could be targeted by malicious individuals, this is now a reality and the FDA is insisting that manufacturers address this risk. Furthermore, FDA are calling on medical device manufacturers and healthcare providers to adapt a collaborative approach to managing the security of devices from development, implementation and operation through to retirement.
About Kernel Capitalwww.kernel-capital.com
Kernel Capital is an independent manager of the Bank of Ireland Kernel Capital Venture Funds, comprising of €210m / £165m of funds raised through six separate venture capital funds in the years 2002, 2006, 2007, 2009, 2013 and 2015. These Funds are supported by Bank of Ireland, Invest NI, Enterprise Ireland, University of Limerick Foundation, NUI Galway Foundation and New York State Common Retirement Fund. Kernel Capital is actively investing through the Bank of Ireland Kernel Capital Growth Funds targeting deal size for Kernel Capital's element in the region of £1m to £5m in the ROI and £0.5m to £2m in NI, either as sole investor or larger deal size in syndication. These 10 year Growth Funds were raised in 2013 and 2015 and invest in Northern Ireland and the Republic of Ireland respectively. Invest NI's investment in the Bank of Ireland Kernel Capital Growth Fund is part financed by the European Regional Development Fund under the EU Investment for Growth and Jobs Programme 2014-2020. Kernel Capital is a MiFID regulated firm.
https://www.kernel-capital.com/wp-content/uploads/2019/04/Nova_Leah_nov8_18.jpg
335
687
kcweb
https://www.kernel-capital.com/wp-content/uploads/2020/01/kernel-capital-logo-300x60.png
kcweb
2018-11-08 17:41:06
2019-12-11 14:15:01
Dundalk Cybersecurity Company Nova Leah Secure €2.25M Investment