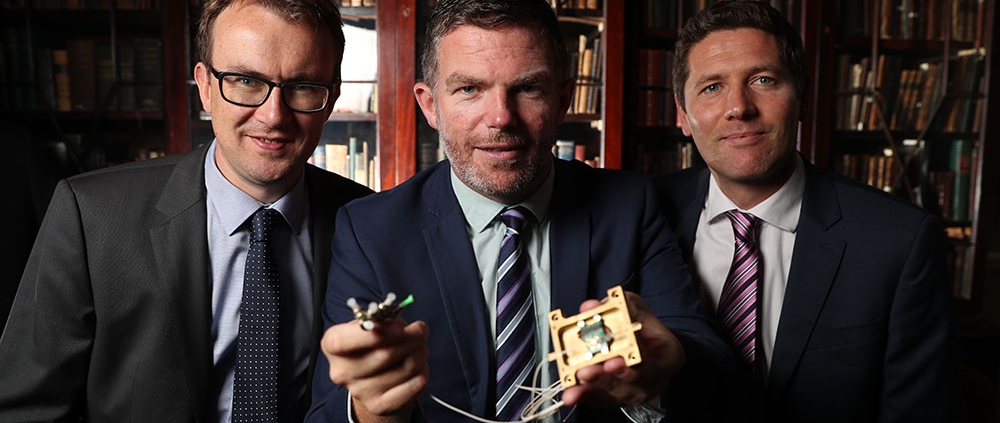 Cork Ireland, 8th February 2018:
Kernel Capital through The Bank of Ireland Kernel Capital Funds has invested in Dublin City University (DCU) spin-out Pilot Photonics, a developer of comb source laser technology. The investment is of almost €1M by The Bank of Ireland Kernel Capital Funds in syndication with Dublin BIC. The company has recently been awarded a significant contract by the European Space Agency (ESA) to develop laser communications systems for use in a range of advanced communications satellite systems. 
Pilot Photonics has developed the world's lowest cost, size, weight and power consuming optical comb source (OCS), absorbing one-third of the power of competing approaches at a fraction of the cost. Pilot Photonics' technology, which is based on 10+ years of pioneering research and development undertaken at DCU, Trinity College Dublin and Tyndall National Institute, has multiple applications across the communications, energy, safety, aerospace and defense sectors globally. This round of investment will enable the Company to expand the team and accelerate their international growth plans.
'Three years ago we took a strategic decision to pursue the development of a completely new technology platform centered around photonic integration. Securing this investment from Kernel Capital and DBIC is a strong validation of that strategy and the new business opportunities it has opened up. We look forward to growing the team, and winning business in both new and existing markets.'
Frank Smyth, CEO, Pilot Photonics
---
For more information please contact:
Helen Norris, Kernel Capital
+44 28 90428367
Notes to Editors
About Pilot Photonics www.pilotphotonics.com
Pilot Photonics is an early stage technology company based in Dublin. Its core photonic integrated comb source technology brings benefits to many diverse applications including communications, gas sensing, and structural health monitoring. The company was formed in 2011 and leverages research developed at Dublin City University, Tyndall National Institute and Trinity College Dublin in its innovation. Optical comb sources are a type of laser that emit on multiple wavelengths, or colours of light simultaneously. They were the subject of the Nobel Prize for Physics in 2005. Photonic integration is a state-of-the-art technique that combines multiple optical functions on a single photonic chip, and is analogous to the development of microchips in the 1960s which combined multiple electronic functions on a single silicon chip.
About Kernel Capital
Kernel Capital is an independent manager of the Bank of Ireland Kernel Capital Venture Funds, comprising of €210m / £165m of funds raised through six separate venture capital funds in the years 2002, 2006, 2007, 2009, 2013 and 2015. These Funds are supported by Bank of Ireland, Enterprise Ireland, Invest NI, University of Limerick Foundation, NUI Galway Foundation and New York State Common Retirement Fund. Kernel Capital is actively investing through the Bank of Ireland Kernel Capital Growth Funds targeting deal size for Kernel Capital's element in the region of €1m to €5m in the ROI and £0.5m to £2m in NI, either as sole investor or larger deal size in syndication. These 10 year Growth Funds were raised in 2013 and 2015 and invest in Northern Ireland and the Republic of Ireland respectively. Invest NI's investment in the Bank of Ireland Kernel Capital Growth Fund is part financed by the European Regional Development Fund under the EU Investment for Growth and Jobs Programme 2014-2020. Kernel Capital is a MiFID regulated firm.
www.kernel-capital.com
https://www.kernel-capital.com/wp-content/uploads/2019/04/Pilot_Photonics_2018.jpg
667
1000
kcweb
https://www.kernel-capital.com/wp-content/uploads/2020/01/kernel-capital-logo-300x60.png
kcweb
2018-02-08 17:23:22
2019-12-11 14:16:20
Investment in Pilot Photonics