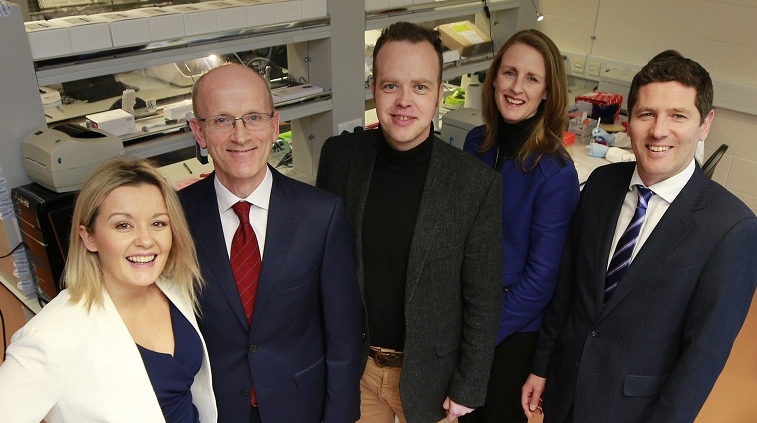 From Left: Dawn Walsh, Marketing Manager, Kernel Capital; Des O'Leary, CEO, OncoMark; Prof. William Gallagher, Co-Founder, OncoMark; Deirdre Glenn, Manager, Lifesciences Sector, Enterprise Ireland & Kevin Healy, Senior Manager, Corporate Banking Ireland, Bank of Ireland.16 February 2017:
Kernel Capital through the Bank of Ireland Kernel Capital Venture Funds has participated in a €2.1m investment in OncoMark, a medical diagnostics company. The investment comprises of a €650k investment by Kernel with the remainder of the funds provided by Irrus Investments & Galway HBAN MedTech syndicates, Enterprise Ireland and Private Investors.
OncoMark has also secured €2.7m Horizon 2020 funding, to clinically validate their lead product OncoMasTR, a novel prognostic test for early-stage breast cancer which aims to reduce the number of breast cancer patients receiving unnecessary chemotherapy.
Breast cancer is the most common cancer in women with 1.6 million new cases annually worldwide. In the absence of accurate tests, the majority of early-stage breast cancer patients are treated with chemotherapy despite 70% of patients not requiring the treatment after initial surgery. This exposes individuals to severe side effects and results in significant costs to healthcare systems worldwide. The OncoMasTR test is designed to enable a more personalised approach to patient care, helping clinicians to determine which patients should not receive chemotherapy, ultimately improving their quality of life.
This investment round will fund the transition of OncoMasTR from clinical validation to full commercialisation.
"We are delighted to announce the successful achievement of our fundraising targets which will, in addition to the Horizon 2020 funding, allow us to complete the commercialisation of the OncoMasTR assay, with product launch scheduled for mid-2018."
Des O'Leary, Chief Executive Officer, OncoMark
"Oncomark aims to prevent early stage breast cancer patients' exposure to ineffective treatment and needless toxicity. Kernel Capital are delighted to have led this investment in Oncomark, and to fund the commercialisation of its genomic assessment test based on pioneering research led by Professor William Gallagher."
Orla Rimmington, Partner, Kernel Capital
"Bank of Ireland is delighted to support the ambitious and important work of OncoMark with the commercialisation of this new diagnostic breakthrough for breast cancer. At Bank of Ireland we have worked closely with the team involved to provide the best possible banking solution for their requirements and we are delighted to play a part in their success. Support for the start-up community is a key priority for Bank of Ireland and we look forward to working with the team over the coming years."
Donal Duffy, Director, Bank of Ireland Corporate Banking
"The thriving Irish medtech sector continues its story of success and the development of innovative products such as OncoMasTR contributes significantly to Ireland's reputation as a leading global cluster for medical technologies. Companies like OncoMark are the future of the Irish economy. They have used Ireland's extensive innovation ecosystem and worked with the Enterprise Ireland commercialisation team to bring the fruits of academic inquiry to market and profitability. We will continue to support companies like OncoMark in delivering medical solutions that impact positively on the lives of cancer patients worldwide."
Dr. Tom Kelly, Head of Division, Industrial, Lifesciences & Consumer, Enterprise Ireland
---
For further information please contact:
Dawn Walsh, Kernel Capital.
Tel: +353 21 4928974
Notes to Editors:
About Oncomark
OncoMark is a diagnostics company focused on the development of novel panels of cancer biomarkers, to aid treatment decisions and allow more tailored patient management, ultimately improving the quality of life for cancer patients.
www.oncomark.com
About Kernel Capital
Kernel Capital is an independent manager of the Bank of Ireland Kernel Capital Venture Funds, comprising of €210m / £165m of funds raised through six separate venture capital funds in the years 2002, 2006, 2007, 2009, 2013 and 2015. These Funds are supported by Bank of Ireland, Invest NI, Enterprise Ireland, University of Limerick Foundation, NUI Galway Foundation and New York State Common Retirement Fund. Kernel Capital is actively investing through the Bank of Ireland Kernel Capital Growth Funds targeting deal size for Kernel Capital's element in the region of €1m to €5m in the ROI and £0.5m to £2m in NI, either as sole investor or larger deal size in syndication. These 10 year Growth Funds were raised in 2013 and 2015 and invest in Northern Ireland and the Republic of Ireland respectively. Invest NI's investment in the Bank of Ireland Kernel Capital Growth Fund is part financed by the European Regional Development Fund under the EU Investment for Growth and Jobs Programme 2014-2020. Kernel Capital is a MiFID regulated firm.
www.kernel-capital.com
https://www.kernel-capital.com/wp-content/uploads/2019/04/oncomark.jpg
447
757
kcweb
https://www.kernel-capital.com/wp-content/uploads/2020/01/kernel-capital-logo-300x60.png
kcweb
2017-02-16 17:00:05
2019-12-11 14:17:37
€2.1M INVESTMENT IN UCD SPIN-OUT ONCOMARK