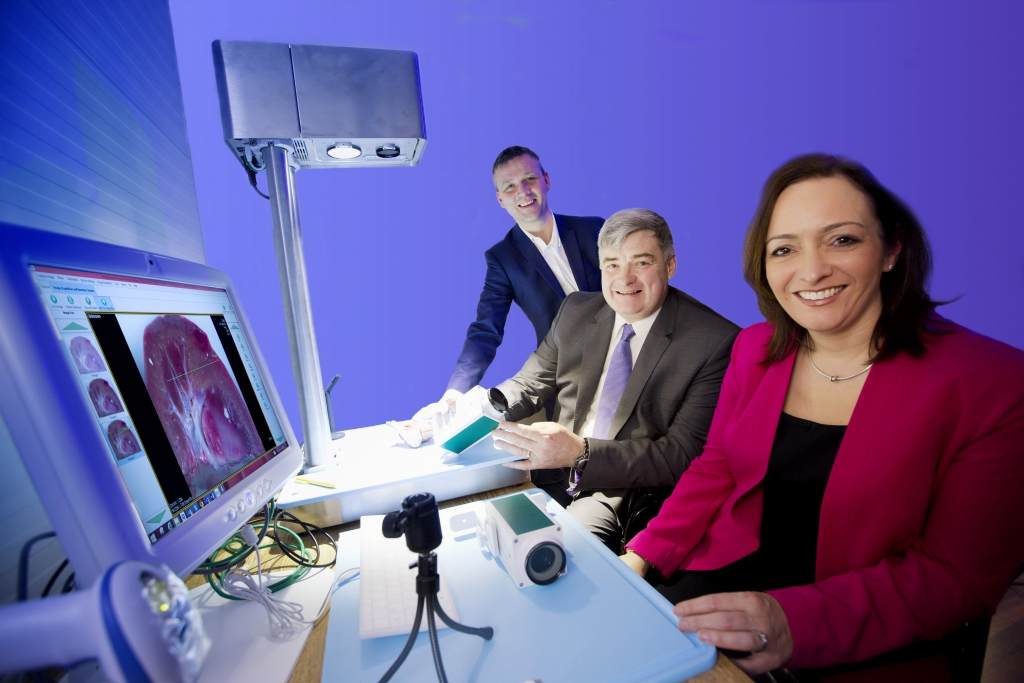 From Left: Allen Martin, Senior Investment Executive, Kernel Capital; Hugh Cormican, CEO, Cirdan Imaging and Gillian Sadlier, Senior Business Manager, Business Banking NI, Bank of Ireland.Belfast, 4th February 2016:
Kernel Capital through the Bank of Ireland Kernel Capital Growth Funds is pleased to confirm the completion of a £2.9m investment in Cirdan Imaging Limited as part of a £3.5m investment round. Established in 2010, this Lisburn based firm designs, manufactures and distributes software and imaging solutions, for the acceleration and enhancement of medical diagnosis and to address the market need for robust scalable 'digital workflow' products for pathology laboratories.
Bank of Ireland Kernel Capital Growth Fund (NI) was designed to help SMEs in Northern Ireland to accelerate their growth. Invest Northern Ireland has committed £15million of funding to this fund, which has the potential to invest over £24million in SMEs over the next five years.
Today's announcement comprises £2m equity investment from Kernel Capital £0.9m equity investment from Kainos plc and a further £0.6m investment is in progress. Kainos, with whom Cirdan has also entered a commercial partnership, are one of the UK's leading independent digital technology companies and a market leader in the provision of Mobile-Enabled Healthcare solutions to the NHS. Existing investors in Cirdan Imaging include the Co Fund NI and QUBIS.
Cirdan has a multi-million pound annual turnover and employs 32 people. Following this investment the firm is set to increase employment further as it builds upon its existing sales presence in the USA, Canada, Europe, Asia, Middle East, and Australia. In 2013 Cirdan acquired a part of GE Healthcare's business, thus accessing a 'Blue Chip' global customer base.
Allen Martin, Senior Investment Executive, Kernel Capital and Director Cirdan Imaging said:
"We recognised that Cirdan Imaging is a progressive NI company with an excellent team and high ambition. Led by Hugh Cormican CEO with Stephen Dunniece CTO, they and their team have demonstrated their business, engineering and marketing acumen to innovate and create disruptive products and sell them Worldwide.
Hugh Cormican, CEO Cirdan Imaging said:
"We are delighted to be working with Kernel Capital, Kainos and our existing investors. This funding will be used to strengthen our ULTRA LIS product offering, capitalize on our partnership with Kainos and to scale our company, as we enter new markets and increase our export sales.
Brendan Mooney, CEO Kainos said:
"We are delighted to have made this investment in Cirdan. The firm is a fast-growing and exciting medical diagnostics business. Our close relationship will open doors for both businesses, creating interesting new growth opportunities."
Gillian Sadlier, Senior Business Manager at Bank of Ireland UK said:
"We are delighted that the Bank of Ireland Kernel Capital Growth Fund has made this significant investment in Cirdan Imaging a pioneering, innovative and export focused business."
Invest NI's investment in the Bank of Ireland Kernel Capital Fund is part financed by the European Regional Development Fund under the EU Investment for Growth and Jobs Programme 2014-2020.
# # #
Notes to Editors:
About Kernel Capital www.kernel-capital.com
Kernel Capital is the manager of the Bank of Ireland Venture Capital Funds and have in excess of £145m under management on the island of Ireland. Their funds are supported by Bank of Ireland, Invest NI, Enterprise Ireland, University of Limerick Foundation, NUI Galway Foundation and two family offices. The Bank of Ireland Venture Capital Funds have invested in a portfolio of 70+ companies in Northern Ireland and the Republic of Ireland, which collectively employ in excess of 1,200 and have been granted over 150 scientific patents. Kernel Capital have offices in Belfast, Dublin and Cork.
About Cirdan Imaging www.cirdan.com
Cirdan is engaged in the design, manufacture and supply of innovative imaging and informatics technology for the acceleration and enhancement of medical diagnosis. Its products include the Ultra platform, a popular and evolving laboratory information system, and a suite of innovative medical imaging systems. The company was founded on 25th May 2010 and is headquartered in Lisburn, Northern Ireland and has additional offices in Canada and Australia.
About Kainos www.kainos.com/
Kainos provides a market-leading comprehensive suite of digital services to healthcare providers such as hospitals and community care organisations. Its flagship Evolve Electronic Medical Records (EMR) product automates the creation, capture and handling of medical case notes and operational documents and records allowing healthcare providers to deliver better patient safety and quality of care. Evolve is used in more than 90 hospitals in the UK, helping healthcare providers on their journey to becoming a paperless environment.
https://www.kernel-capital.com/wp-content/uploads/2019/03/cirdan.jpg
2441
3661
kcweb
https://www.kernel-capital.com/wp-content/uploads/2020/01/kernel-capital-logo-300x60.png
kcweb
2016-02-04 21:36:33
2019-12-11 14:18:55
EXPORT LED GROWTH DELIVERS £3.5M INVESTMENT ROUND TO LISBURN'S CIRDAN IMAGING